Bespoke Jewellery Design Service
If you'd like a piece of truly personal jewellery, then why not commission a bespoke jewellery design tailored especially to you?
Natalie has created many bespoke pieces for customers including engagement rings, wedding bands and other personalised jewellery pieces for a number of clients internationally. Natalie also specialises in reworking heirloom jewellery. Get in touch to book a consultation with Natalie. We would love to help create a special piece for you or a loved one.
How to commission a bespoke jewellery design
1. BOOK A CONSULTATION WITH NATALIE
Email natalie@natalieperryjewellery.com to book an appointment at Natalie's studio in London. Or if you're based elsewhere then you're welcome to book a video or telephone consultation.
You may already have an idea of the design you'd like to create - it could be a different variation on a piece you've seen on the website or a completely new idea with Natalie Perry's aesthetic. During your consultation Natalie will discuss with you the design, budget and delivery times and any additional information required to create a piece of bespoke jewellery just for you.
Stone Sourcing Fee
If you'd like Natalie to source specific gemstones for you to see during your consultation then an £80 stone sourcing fee will be charged. This amount will be deducted from the final bill for your bespoke piece, upon completion.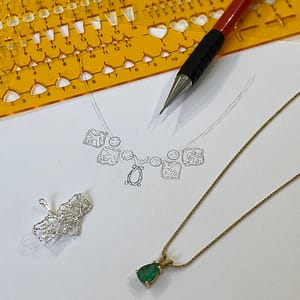 2. FINALISE BESPOKE JEWELLERY DESIGN
Natalie will sketch out possible ideas or source imagery for you, or create a CAD drawing if the design requires it. You can then decide on the final design which Natalie will make by hand. Natalie can document the making process, where possible, so you can have photos of the journey of your jewellery being made.
3. PAYMENT OF YOUR COMMISSION
A 50% fee is required by Natalie before work on bespoke jewellery and customised orders can begin. This acts as a confirmation of your order. Once the deposit has been paid, you will be committed to purchase the piece of jewellery and the order cannot be cancelled.
The remaining 50% will then need to be paid in full before the order can be dispatched or collected. Payment can be made by debit card, credit card or bank transfer and the goods remain the property of Natalie Perry Jewellery Ltd until paid for in full.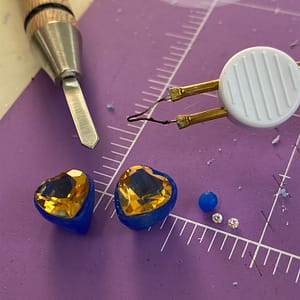 4. TIME FRAME FOR BESPOKE JEWELLERY TO BE COMPLETED
Depending on the nature of the work, bespoke jewellery pieces normally take between 5-8 weeks for Natalie to produce. During busier times such as the lead up to Christmas, this timescale may be longer, so please get in touch with as much advance notice as possible.
5. INTERNATIONAL COMMISSIONS
Natalie has worked with customers around the world, so creating a bespoke piece of jewellery is no problem if you live outside the UK. Please email Natalie on natalie@natalieperryjewellery.com to discuss your commission.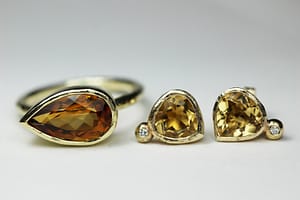 CUSTOMISED JEWELLERY
Every piece in the collection can be made-to-order with a preferred type, colour or size of gemstone and preferred precious metal alloy. Natalie is happy to guide you through the collection and different possibilities that can make one of her existing designs completely personal to you.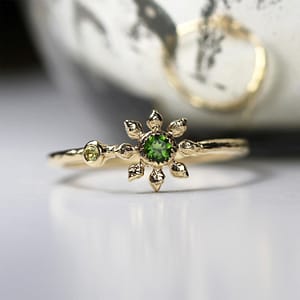 JEWELLERY ENGRAVING
Natalie offers an engraving service if you would like your jewellery engraved with a personal message. Please email Natalie to discuss your engraving and she will contact you to discuss exact details. At this stage, font options and pricing will be arranged.
Customer Testimonials​
"Natalie helped me choose the perfect gift for my mum from her collection. We decided on the delicate flower ring with green peridot and tourmaline gemstones. My mum was overwhelmed, the sheer beauty of the piece was breathtaking and so much so that she shed a little tear. A very special moment. Thank you Natalie." - Lucy S
"I love the elegant simplicity of my beautiful gold ring and unusual tanzanite. Thank you!" - Nicola K
"The earrings for my daughter arrived this morning. They are absolutely beautiful and I know she will love them." - Nancy F
"I had the most pleasant shopping experience with Natalie. Not only does she create beautiful jewellery, she also really cares to deliver excellent customer service. I asked for a small change to the earrings I ordered and Natalie could not have been more helpful and went out of her way to make sure I was a 100% happy. Highly recommended!" - Ruth O